By Ian MacAllen on Friday, May 23rd, 2014 at 9:10 am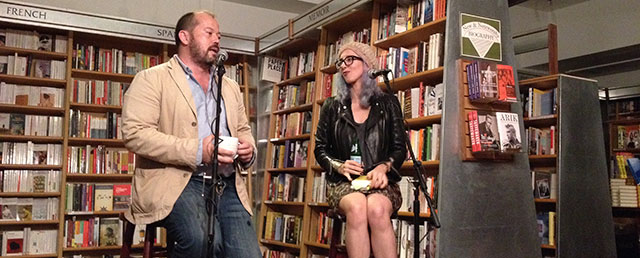 Porochista Khakpour released her second novel, The Last Illusion, earlier this month. The Iranian born, New York City based novelist was joined by Alexander Chee at McNally Jackson to discuss the book.
Khakpour prefaces the reading by saying the book is based on Iranian myths, a modern retelling of stories her father read to her as a child while she suffered from insomnia. These myths are common in Iran. She left the country as a small child, grew up in California, but has lived in New York City since 1995. She witnessed 9/11 first hand from her apartment in lower Manhattan, an event that seems to have profoundly affected her, and that she often writes about.
Sons and Other Flammable Objects (2007), Khakpour's first novel, was published when she was just twenty-nine. She says it sold poorly, offering this as an explanation as to why American publishers were slow to pick up The Last Illusion. Her second novel had sold to a British publisher two years before an American publishing house picked it up.
She says she thought her first book wasn't ready and that she was way too young. With The Last Illusion, though, she felt she had a great, finished book. "I never rewrote it," she says.
Between herself and her agent, Seth Fishman, she says that they both believed it was ready. Publishers were rejecting it, but always for different reasons. Khakpour says that if she had a weaker personality, selling the book would have been a disaster. Portions of the book eventually received a National Endowment of the Arts award, bolstering its prospects. Finally, it sold.
Ten perecent of the book takes place in Iran, the remainder in New York City. Much of the novel, and Khakpour's writing more generally, focus on 9/11. Chee explains that the novel seems to capture a world that disappeared after those events, the end of the sort of gleeful 1990s. Yet, he says, the reviews tend to not focus on that, instead looking to the links to Iranian myth.
People are nervous about discussing 9/11, Khakpour says. The first 9/11 novels came out in 2003, and writers then were viewed skeptically for dealing with the subject so close in time to the event. For Khakpour, she says what makes reviewers especially nervous is that she has two perspectives. She observed the events first hand as a resident in lower Manhattan and also as someone of Middle Eastern descent.
Chee asks how she came to decide to write a novel rather than a memoir.
Khakpour says she has survived writing non-fiction essays, but she intentionally chose to write a novel. People are suspicious of novelists. "There is a mistrust of the fiction writer sometimes," she says. She was constantly writing about issues of racial identity as someone from Middle Eastern descent. Non fiction pays more, she says, and fiction meant she wasn't focused on paying her bills–it wasn't a lifeline like the essays she produces.
Khakpour has grown tired of writing Iranian themed personal essays. Her most recent had been published by Vice the day her novel came out, but otherwise she is trying to write fewer identity pieces. She realized perhaps she had written too much on the topic when the Brooklyn-based Iranian band Yellow Dog suffered a murder-suicide. She had editors that very day calling her up to pen an op-ed piece. They didn't want journalistic coverage, for which she had a background and is qualified to do, but instead an opinion piece describing the
difficulties of assimilation. That tragedy was not about assimilation, she says.
Chee asks her about her choice of style and genre.
"I've always liked magical realism and fabulism," she says. American psychological realism is a problem for her. She says it is challenging to read about white people freaking out over infidelity. The WASPs felt alien to her.
Chee agrees, saying that the United States is finally outgrowing its obsession with realism, or at least loosening up and accepting broader ideas. Fabulism and science fiction offer different registers and explore different ideas, he says.
A lot of world literature is magical, Khakpour adds.
When it comes to process, Khakpour says she is against the traditional advice of writing everyday. She never does, but is nevertheless prolific. She explains that she avoids writing on bad days. She doesn't seek big word counts, she looks for quality words.
"I write first drafts really fast but it takes years and years to edit," she says.
Its not just about writing either. "I believe in living. I try to have adventures," she says adding that she hates hanging out with writers. She talks to people–at the dog park, her neighbors, whoever. New Yorkers, she admits aren't suppose to talk to their neighbors, but she does.
Khakpour also has a love affair with New York City. "I cared about something bigger than myself–and it was the city," she says, adding "I hope I die in New York."
She also uses the internet a lot, partly, she says, because she feels addicted to it. She reads a lot of weird news.
"Weird news has gone mainstream," Chee says.
"I've always been told I'm weird," Khakpour says, "I felt really tortured by that as a child." Now though she seems to embrace the idea.
Porochista Khakpour and Alexander Chee
McNally Jackson Books
Thursday, May 22, 2014
---