By Alex Norcia on Thursday, April 17th, 2014 at 9:45 am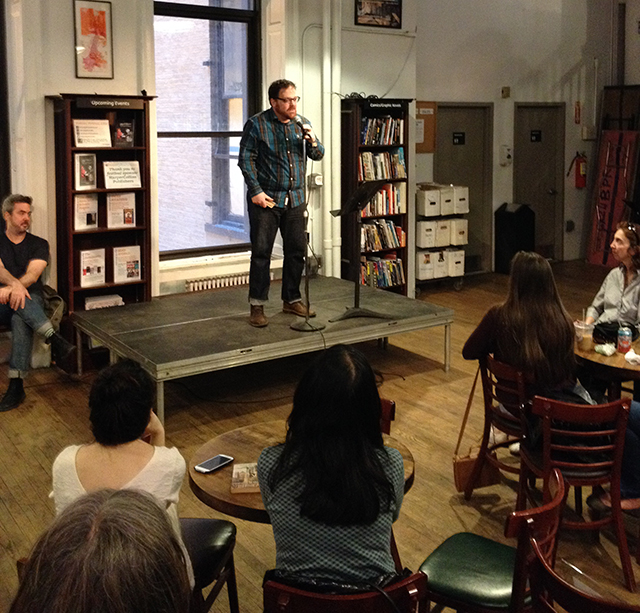 At a time when the independent bookstore has been under scrutiny—Julie Bosman of The New York Times, most notably, investigated whether the burgeoning rent costs would drive sellers out of Manhattan—McNally Jackson Books and Housing Works joined together to host the Second Annual Downtown Literary Festival on Sunday, April 13th. Though there were moments when the young age of the festival showed a bit (some events were simply more organized and better prepared than others), the joint McNally Jackson and Housing Works production succeeded in displaying the vibrant literary culture that still exists around Houston Street, adding, in its own way, to the recent trend of criticism and analyses that has centered on Manhattan as the "Writer Mecca" of the United States.
It's an important context to note, especially since the arguments about New York and literature are so often self-referential, and they don't seem to be going away: that is to say, most engaged in the issue seem to always be responding to someone else, as if they're all sitting around a kitchen table, shouting at each other to pass the gravy.
For one, supplementary to Ms. Bosman's piece, the Times posted "A Room for Debate" in the Opinion Pages online, which featured industry professionals expressing their opinions on the future of the bookseller; and in The New Yorker blog, Rebecca Mead directly answered Bosman, noting that the independent bookstore hasn't gone but rather moved to Brooklyn, apparently like everybody else.
Additionally, in the past few months, Sari Botton, a festival participant, and Chad Harbach, author of The Art of Fielding and co-founder of n+1, have released collections concerning New York City and the life of a writer. Botton's work, Goodbye To All That: Writers on Loving and Leaving New York (2013), includes essays by a cast of women writers who explore the role of the city in their development as authors; Harbach's book, MFA vs. NYC: The Two Cultures of American Fiction (February 2014), sets-up a dichotomy (perhaps a false one, perhaps not) containing personal essays that analyze, among other topics, Manhattan's monopoly on the publishing industry.
In short, the Downtown Literary Festival materialized all of these New York literary disputes—the bleak or Brooklyn future of the independent bookseller; the allure Manhattan's downtown holds for writers; the reason for author migrations to other places, like Brooklyn—in the form of unique public performances: cabarets, Moth-like stories, uninhibited dialogues.
The venues were all in walking distance from one another, and festival goers had a choice, between noon and four, of attending one of two events, held in the Bowery Poetry Club and Housing Works Book Café. Sponsors included Harper Collins and others. Authors signed their works, too, at McNally Jackson throughout the day.
Of course, I couldn't be everywhere at once, and I had to eat lunch, but what follows are the reviews of the readings, and the one discussion, I attended.
Natives and Newcomers: How Open Is New York City?
11AM at Bowery Poetry Club
Featuring Teju Cole, Hari Kunzru, and Katie Kitamura
Moderated by John Freeman
Before the moderator, former Granta editor, John Freeman walked on stage to kick-off the day, Alice Whitwham, the events coordinator at McNally Jackson, reminded the audience that the aim of the festival was to "celebrate the literary culture of downtown New York City," though not necessarily in a "conventional way": the focus would be on "speed" and "conversation," abandoning the traditional panel of regimented question and answer.
With that promise, Freeman wasted no time introducing the guests, novelist Teju Cole and the writer-couple Hari Kunzru and Katie Kitamura, who brought along their young son, so he could sit on their laps, look cute, and play with the microphones.
Besides listing their accomplishments, Freeman explained the three panelists' ethnic backgrounds, and how their respective histories would inform the coming discussion on race, multiculturalism, and living as a foreigner in the city: Cole, born in the United States, was raised in Nigeria until he returned for college; Kunzru, a native of the United Kingdom, is a British Indian, his father a Kashmiri Pandit; and Kitamura, a Californian, comes from a Japanese family. All currently live—and write—in New York City.
Well-prepared, and with a clear knowledge of Manhattan's history, Freeman opened the discussion with a quote from James Baldwin—"whoever is born in New York is ill-equipped to deal with any other city: all other cities seem, at best, a mistake, and at worst, a fraud"—and asked Cole to start by detailing his first impressions of the Big Apple.
Initially hesitant, Cole wondered if Freeman could return to him after hearing from Kunzru and Kitamura, but his stalling lasted no more than a few seconds, as he addressed the question with social observations, as he would continue to do throughout the late morning. Cole mentioned how the men and women on television actually said the things he had imagined they would say (this, he admitted, may have been a larger reflection, based more on America as a whole), and he recalled a story where his father pointed out a homeless person scrounging through the trash, as if to say there were poor people in the States, too, and such fate would be Cole's if he chose not to work hard.
As Kunzru and Kitamura seemed a little distracted with their son (Kitamura had to unfortunately leave early when he began crying), Cole dominated with astute monologues about race and independence throughout New York's boroughs. He noted how he thought diversity in the city, especially on the subway, appeared to be a performance, a scene not at all dominated by "whiteness," and how the income gap, for which Freeman provided the numbers, was unsustainable, much like climate change.
"It seems to me, here and now," Cole said, "like France before the revolution."
Later on, when asked about the under-representation of the Bronx in American fiction, Cole shared a story of how, four years ago, he took a month off with a friend to watch the World Cup.
After choosing the match to watch, of which he joked was picked by "a precise algorithm," Cole and his friend would view the game with "the relevant immigrant group": that is, they would know which team they wanted to win, and they would go to the neighborhoods where these immigrants had settled and cheer for the respective country. He went through all New York that way, stopping in every borough and in places he had never been, and probably would have never gone (he even said that he had dined in "house restaurants," whereby he went to people's apartments, drank some beer and ate some food, and promptly left, after giving the hosts twenty-dollars).
Kunzru responded to Cole's racial critiques in many ways, mostly by identifying cultural aspects that are so clear they often go unnoticed: he stated, for instance, that language (whether or not one could speak English) served as the clearest modifier between the classes—a class system, he admitted, that wasn't nearly as regimented, and visible, as London's. He continued by revealing one of his earliest "New York stories," in which he saw Woody Allen, Larry David, and Diane Keaton in a single day. His narrative caused Cole to digress, indirectly, about what he sees as the "partial knowledge toleration" in the city—another facet, he thought, that also goes overlooked. Cole clarified his assertion with an example: a cab driver he had who did not know how to get to Houston Street. Cole couldn't see such cluelessness (the cabbie had only been in the U.S. for two days) really being permitted anywhere else.
Freeman steered the chat, at one point, with another pair of quotes, one from Angela Carter—"Cities have sexes: London is a man, Paris a woman, and New York a well-adjusted transsexual"—and another (more of a paraphrase) from Salman Rushdie, said specifically to him while in England: he recollected how the novelist told him he had been in London for thirty years but could never be a "Londoner." It takes no time at all, Freeman theorized, for one to be considered a "New Yorker." All three writers agreed.
While the topics of race, immigration, and class status certainly found the forefront—Freeman even offered a historical scope, citing the abolishment of a quota in 1965, and Cole professed specific outrage, most notably, about how the monitors in cabs only displayed the "important parts of the city," nowhere above, say, 110th Street—the notion of "downtown," and what's happening to the downtown area, always somehow trickled back into the talk.
In one of the most insightful comments, Kitamura wondered how useful New York nostalgia had become, other than in the form of commodities at Urban Outfitters. Why not let "downtown go?" Can't a bohemia exist elsewhere, like in Brooklyn, or Astoria, or anywhere in the outer boroughs?
She reminded the audience, too, that New York City is not devoid of the influence of money. It seems, though, at least in the media and Hollywood, to have undergone a sort of inversion. Years ago, as with Sex and the City and Friends, shows focused on having an income and what that meant, socially, in the city. Now, as with Lena Dunham's Girls, the relationship has been reversed: it's not so much having money, as getting money and being able to support one's self, extravagantly, as an "artist."
Freeman frequently referenced the writers' works—Cole's Every Day is for the Thief (April 2014) and Open City (2011) and Kitamura's The Longshot (2009) and Gone to the Forest (2012) —but it was Kunzru's forthcoming multimedia project on the blind musician Moondog, Twice Upon a Time: Listening to New York, that received the most attention, re-directing the group toward the relationship between literature and technology.
While the three agreed upon pervasive themes in the New York novel—Kunzru talked much about "arrival" and the idea of holding onto the city once you settle—the subject of technological advancement, and the written word's place in such a landscape, provided a much fuller, and tangential, discussion. While Cole highlighted the common backlash that there's something inherently "un-literary" about multimedia and that one should, instead of getting bogged down with such preconceptions, simply consider the "quality of the work," Kitamura stressed that such oppositions have occurred throughout history: she cited Henry James and his concern with the newspaper as a prominent example.
And still, despite all that was considered over the hour, Cole, Kunzru, and Freeman couldn't agree more than when Kitamura described seeing Manhattan from the Brooklyn Bridge.
There's something magical, climactic, and poetic in seeing that place where you've been—and you've been a part of—all that time.
The Greatest 3-Minute Bad Apartment Stories
12PM at Housing Works Bookstore Café
Featuring Sari Botton, Jen Doll, Maggie Serota, Tyler Coates, and Bob Powers
Hosted by Tobias Carroll
The first event ran a bit over, as did, perhaps, my preceding review, so I missed Maggie Serota and her opening story on "bad apartments" in New York City, as I traveled to Housing Works from the Bowery Poetry Club.
Emceed by Tobias Carroll, editor at Volume 1 Brooklyn, "The Greatest 3-Minute Bad Apartment Stories" was short, lasting just under forty-minutes. It included, to no surprise, some troubling tenant tales, most told in less than five minutes.
Sari Botton joked of the easy steps to stabilize an apartment's rent in New York City (request a rent history, submit a rent overcharge complaint to a landlord, take photographs of dusts and holes and mice).
Bob Powers of Greenlight Bookstore in Fort Greene, who easily told the best of the worst tales, explained how he found a studio in midtown, right after September 11th, for the price of $666. The devil's numbers, though, didn't dissuade him, and neither, apparently, did viewing the apartment and finding piles of garbage stretching from the floor to the ceiling. In something of a subplot, he also cited his motivation for moving out of his current living situation, as his neighborhood bodega man, who also served (or didn't, it wasn't exactly clear, even to Powers at the time) as his building's landlord.
Jen Doll wrote letters to her apartments, as if they were old lovers: the NYU dorm that lacked an air conditioner; the East 64th walk-up where the pimp did laundry in the basement; the space in Boston (in a brief interlude of relocation) during a heat wave; the Upper West Side duplex where the upstairs neighbors dropped porn onto her deck below; that one on 11th Street; and finally, the current room in Brooklyn, of which she hasn't yet left.
Warning the crowd before he began, the critic Tyler Coates told a cautionary narrative of bed bugs and his stubbornness about moving from his Clinton Hill home, even after the place caught on fire (sort of) and the insects returned.
I left with recent memories of my own first apartment: a faulty toilet at 3AM, an incessantly stoned super, a flooding laundry room. I guess everyone has those stories.
I couldn't be happier living here.
Vice and Virtue: Stories of Sin and Salvation
1PM at Bowery Poetry Club
Featuring Stephen Elliot, Saeed Jones, Trisha Low, Rosie Schaap, and Elissa Schappell
Back at Bowery, Stephen Elliot, founder of The Rumpus, set the tone of "Vice and Virtue" by opening with an experience regarding a prostitute in Amsterdam, and how, after a night of handcuffs, knives, and cigarette ash, he could never find her again.
The hour would prove to center more on "vice," after all, than "virtue."
Saeed Jones, editor at Buzzfeed LGBT and a graduate of the MFA program at Rutgers-Newark, read from his poetry collection Prelude to Bruise, forthcoming from Coffee House Press this September. He has the sound and rhythm of a practiced beat poet, and his voice added an unforgettable resonance to his free verse.
Rosie Schaap shared a part of her work, Drinking with Men (2013), that involved an evening of too much liquor and weed and a car ride home with a kind Middle-Eastern man. Schaap has been a fortuneteller, a preacher, an editor, and a teacher, among other occupations, but her memoir focuses, specifically, on her time as a bartender. The excerpt she read revealed a moment in which she let someone take care of her and not the other way around (she contextualized her odd string of occupations as descending from her ability to talk kids down on acid trips at Grateful Dead shows in the 80s).
The artist Trisha Low rapidly performed a confessional piece from The Compleat Purge (2013), her anthology of the Internet Age that consists of priests' reactions to confessions concerning her sexual episodes, the blogs of young women, and the diaries of teenagers.
Sporting bright red pants, Elissa Schappell, co-founder of Tin House and a contributing editor at Vanity Fair, closed with an essay from the sex issue of her magazine, in which she went to a furry convention around Gettysburg: there, men and women dressed in full-body suits of animals and engaged, naturally, in all kinds of fun.
Afterwards, I needed a break. I went for a two-hour lunch.
Call it a siesta.
After Hours: A Literary Cabaret
4PM at Bowery Poetry Club
Featuring Charles Bock, Adam Fitzgerald, Heidi Julavits, Uzoamaka Maduka, Rachel Syme, Colm Tóibín, Edmund White, and Joshua Ferris
Hosted by Lucas Wittman
The final event I attended, led by the editor Lucas Wittman, took the form—or at least, tried to take the form—of a so-called "literary cabaret." Wittman explained that he had instructed each reader, days earlier, with the task of presenting his or her art in the "cabaret tradition."
Most approached the theme, though, with straightforward readings. Here, I'd say, more concrete directions, urging the writers not to do straightforward readings, would have been helpful, especially considering the festival organizers aimed for unconventionality.
Charles Bock started with an excerpt from an upcoming work (a young musician feels lightheaded, and a female artist attempts to calm him down in the hospital).
Joshua Cohen read a monologue from his first novel, Cadenza for the Schneidermann Violin Concerto (2006), with particular force and animation.
Afflicted with a cold, Uzomaka Maduka, co-founder of The American Reader, still beautifully recited Chelsey Minnis's poem, "Clown," while Joshua Ferris gave a sneak-peak of his upcoming novel, To Rise Again at A Decent Hour, with a few pages in which the narrator debates, internally, what else do in New York besides eat and drink.
Others, however, did approach the assignment more creatively.
Adam Fitzgerald performed his poetry, "Time After Time" and "George Washington" to music: the former to the Cyndi Lauper song, the latter to "ambient drone music."
However, it was Rachel Syme, the author of an upcoming biography on the affair between F. Scott Fitzgerald and Sheila Graham, who captivated the audience in true cabaret-style with the readings of Lois Long, a (somewhat) forgotten New Yorker columnist from the 1920s. Syme shared passages that traced Long's initial excitement, and consequent disdain, for the speakeasy culture during Prohibition: writings about missing an armed robbery at nightclub; the unveiling of a speakeasy in the basement of The New Yorker (and its shutdown in the span of a week); drafting articles in her slip from the night before; a disdain for psychoanalysis; and finally, what she started to see as the dullness and banality of the city.
Colm Tóibín ended the night with a selection from the story of Lazarus.
What that had to do with "downtown" escapes me, but I was tired at that point. Maybe I'd go so far as to say I was in a fugue state. Maybe I was almost dead.
But it was a shame, at the end, that I couldn't rise the next day and re-live it all again.
---