By Ian MacAllen on Wednesday, February 11th, 2015 at 4:39 pm
Scottish author Irvine Welsh found himself in Jersey City at WORD Bookstores to talk about his latest novel, The Sex Lives of Siamese Twins. The book is his first American story featuring young women in their twenties in Miami. He was joined for conversation by Nathan Larson, author of The Dewey Decimal System.
Welsh, who is married now to an American, keeps a home in Miami. He describes that city as a much more visual culture than his native Scotland. Scots are verbal with a long tradition of oral storytelling, he says. Miami though is about fashion, about image, art, and photography, about "people walking around with no clothes on," he says.
He jokes that he feels his IQ dropping whenever he gets off the plane in Miami, and that ultimately he's the pale white guy with Scottish skin and a sagging gut amongst very attractive people.
"Equinox (gym) is kinda like a yuppies single bar," he says.
All of these feelings find their way into The Sex Lives of Siamese Twins. Welsh was at his local gym observing what he describes as a "masochistic thing" happening with the people there. He says there is a kind of false dichotomy between sport and art, that one must choose whether to be an "arty punce" or "sporty asshole." For him, he has always wanted to be both.
With this latest book, set in America and focusing on young women, Welsh felt certain nobody would think of the characters as a surrogate for himself. With the Scottish bad-boy characters he creates, readers often assume he is writing about himself. And yet Welsh says when his wife read The Sex Lives of Siamese Twins she insisted that no character he had written was closer to him than the two women in the novel.
"Every character you write is some way a part of you," he says.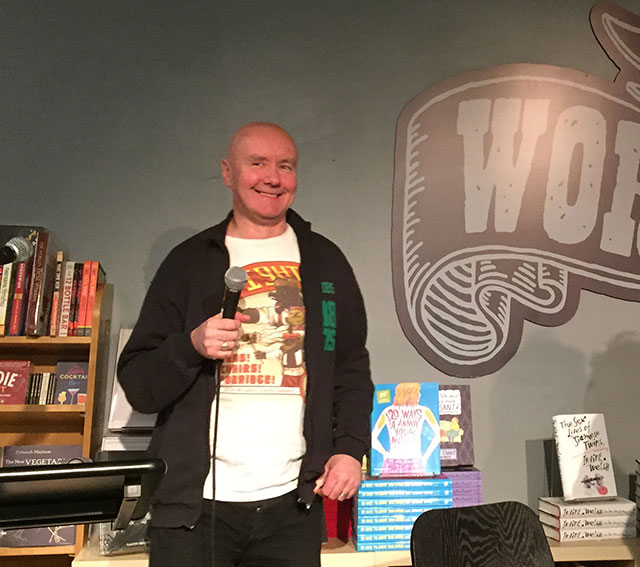 Although The Sex Lives of Siamese Twins has two women protagonists, many of Welsh's other works lack women characters. He says it has a lot to do with the men he writes about: women wouldn't be with those men. "They wouldn't hang around with these losers," he says.
Sex plays a prominent role in his books. In this case, there is quite a lot of lesbian sex. Welsh says all his books have to pass what he terms the "what's-my-mom-going-think-of-this-test." Its his mother's opinion that most matter to him. When she read the latest novel, her response was: it's well written son, but there's too much lesbian sex in it.
Many of Welsh's books have been turned into feature films. Trainspotting might be the best known, but he has at least half a dozen others. He describes many authors as thinking their works are too precious and upset about adaptations. He says that whenever a book becomes a movie, authors should remember that the book still exists. The book and the movie can exist in the same world without ruining the other. "The more transformations, the more interesting it is," he says of the process.
Larson can't allow Welsh to escape without talking politics. Scotland recently faced a referendum that would have allowed the nation to leave the United Kingdom. Welsh favored independence. He even campaigned on behalf of an independent Scotland.
Although Scotland voted to remain in the United Kingdom, Welsh says the campaign for independence helped fuel a massive creative explosion in Scotland energizing new artists and new writers. He also says Scots were suddenly uncharacteristically nice to each other. He also sees all future votes in the nation's nearterm to serve as a proxy on the referendum.
Larson also asks about Welsh's short stories, works written in Welsh's younger years, and the magical realism often injected in them. Welsh says he was interested at the time in exploring typography and how words existed on the page– or in some cases didn't exist. Welsh says he wrote many of those short stories when he was taking a lot of drugs. "I'd like to get back to that, but I might have to take loads of drugs," he quips.
Every book Welsh writes requires different techniques, he explains. There is no one set method. Some books he describes as nine-to-five books, written during the day on a regular schedule. Others he says are more nocturnal and keep him up all night long. He jokes that those books aren't good for relationships.
Welsh has been working with the same editor for more than twenty years. The editor is Scottish, though Welsh jokes that he's posh Scottish. "Its the longest relationship I've ever had," he says.
Irvine Welsh and Nathan Larson
WORD Jersey City
Tuesday, February 10, 2015
---