By Ian MacAllen on Wednesday, October 17th, 2012 at 2:49 am
I had long heard that Sherman Alexie provided entertaining performances, and having been a reader of his books for well more than a decade, decided to brave the Union Square Barnes and Noble performance space. As far as readings go, there are better venues than Barnes and Noble. Its massive open space and rows and rows of foldup chairs cater mostly to rowdy, oversized crowds. And as the largest chain of bookstores, Barnes and Noble tends to focus on established authors with a proven track record for selling books.
A third of the seats had been reserved for middle school students on assignment for class. High school students seemed abundant in the audience too, and only then did I begin to realize that the moment Alexie transitioned from the best known Native American author to mainstream superstar was with the publication of his young adult novel, The Absolutely True Diary of a Part-Time Indian. The book has topped lists of banned books almost since its publication. In one recent year, he was the second most banned book, beat out only by a book about gay penguins. Apparently, conservatives hate penguins.
The presence of school children in attendance in no way attenuated Alexie. He spent years as a stand up comic, and he treated the reading much like a performance in a seedier bar than a corporate chain bookstore, all this to say that he was wildly entertaining. After briefly commenting on the sudden downpour and his wet socks, he quipped: "what the fuck is up with white guys and lumberjack beards. You don't get to have a lumberjack beard unless you felled a fifteen foot tree."
I knew then attending was the right decision (And i confess, if I was capable of growing large amounts of bushy facial hair, I might consider a lumberjack beard a point of pride).
Alexie likes New York City. He pointed out that in Washington, he stands out, easily recognizable as an Indian because of all the pale skinned Washingtonians. But in New York, he's ambiguously brown. In some neighborhoods, he explains, he could even pass for a Dane.
He went on to describe an anecdote he experienced earlier that afternoon. He saw two students, maybe twelve years old, standing around smoking cigarettes and overheard them: "then that fucking bitch to told me to do my fucking homework." He texted his son afterward. His point: yes, naysayers, he does talk to his children that way, and there really isn't a reason to go banning his young adult novel over foul language.
Finally, he began reading from his new book, Blasphemy. The release of the short story collection is after all, the primary reason for his New York appearance. As he begins reading, he suddenly seems much less comfortable. He seemed far more at home speaking off the cuff. there is a sense of awkwardness to to his speech. Still, whatever inelegance he might have had in reading was more than overcome by the strength of his prose. Indeed, his discomfort reading seems a testament to the written fortitude of the cadence of his prose, the refined, polished narrative. The audience is allowed to laugh. There are moments where he must pause for the laughter, though with the skilled timing of a comedian, he holds only long enough that he continues before the audience is allowed to stop.
Then there is a moment as he comes to a sex scene when a middle schooler lets out a long "Oooooo." The audience laughs. Alexie stops reading momentarily thrown by the sudden outburst. The sex scene includes a metaphor and its a bit unexpected.
He concludes reading the story but continues with his routine on stage. He gives a shout out to an old highschool friend, a woman he has not seen in more than two decades. She turns red when the audience waves to her and Alexie makes some off color comments about their history. He is a flirt. He flirts with her from the podium, he flirts with the audience, and maybe this is why its so to love his performance. He wants us to want him.
He then goes on to read an older story from the The Lone Ranger and Tonto Fist Fight in Heaven. The story is funny, though about death, and that is the point of the protagonist's narrative: find the humor in life.
After reading, Alexie begins taking audience questions. The staff open with a middle school student who asks the sort of boring questions expected of a middle school student: when did you know you wanted to become a writer. Alexie skillfully turns even this, the most banal of audience questions into an entertaining story, mostly speaking to his ability to story tell. A few more questions follow and he reveals he is not on Facebook, doesn't really tweet, and that one day his children have permission to publish his unfinished manuscripts.
Someone asks his opinions on Johnny Depp playing Tonto in the upcoming Lone Ranger film, and he is finally thrown for a loop. It must be tough to serve as the voice of the American Indian. He jokes about the question a bit, and then goes on to discuss his role as Hollywood's go to Indian consultant. Apparently, someone wanted him to work on a script about the trail of tears. The story though wasn't focused on North America's greatest crime against humanity, but instead involved a love story with two white people. He wasn't particularly interested in the project.
He mentioned briefly, too, his abandoned manuscripts. He walked away from a novel entitled Disco Inferno following the story of reservation Indians trying to build a disco. The fact that this script remains abandoned might be the greatest tragedy in American literature of this century. Disco. Indians. Sounds like a sure winner. There are eight sequels to The Absolutely True Diary of a Part-Time Indian, all also abandoned as failures. He's only four years late with that project, though he did reveal that the followup novel would feature Rowdy and follow the same events of the first novel, but through his perspective.
The question session concluded with an old woman suggesting that Johnny Depp was part Cherokee. Alexie laughed. We all laughed.
Sherman Alexie
Union Square Barnes and Noble
Monday, October 15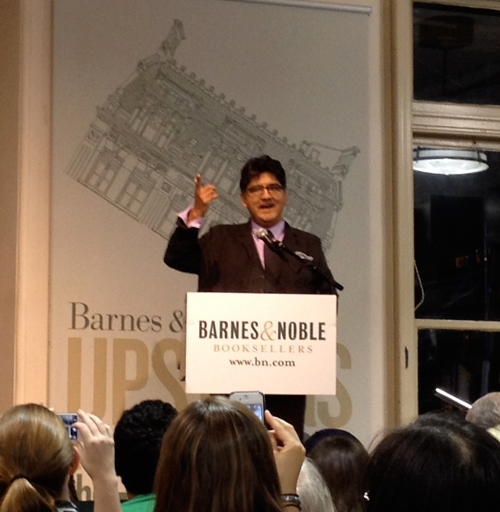 Sherman Alexie reads from his new book Blasphemy at the Union Square Barnes and Noble
---